Environment
Login Screen
System Section Screen
Payroll System Menu

Payroll System Menu
Setup
Transaction
Process
Reports

Setup
Employee
Department
Designation
Allowance
Deduction
Loan Transfer
Attendance
Advance
Bonus
Bank
Tax Slab
Car Make
Tax Slab - Car
Change Password
Branch

Transaction
Loan Instalment
Advance Transaction
Attendance
Arrears
Salary Breakup
For The Month
Employee Transfer
Tax Refund
Donation/Zakat
Investment in Shares
Investment Pension Fund
PF Distribution
PF Withdrawal
PF Year Entry
Tax Year Entry
Fixed Tax Entry
Salary Increment
Other Allowances
Other Deductions
Interest Reimbursement
LFA
Update Cheque No

Process
Salary Generation
Exgratia Process
Generate VPS
Upload Loan Information
Month End
Authorization Process
Tax Report Process
Change Employee Codev
PF Contribution
Exgratia Edit

Reports
Setup Reports
___Employee Information
___Employee (Branch Wise List)
___Employee List (Designation Wise)
___Employee List (Car Wise)
___Department List
___Designation List
___Loan List
___Allowance List
___Deduction List
Edit List
___Setup
___Department
___Designation
___Allowance
___Deductions
___Loan
___Advance
___Bonus
___Bank
___Tax
___Rebate
___Transaction
___Loan
___Loan Installment
___Advance
___Attendance
___Arrears
___Salary Breakup
___Salary Breakup Detail
___Transfer
___Profit Distribution
___Increment
Transaction Report
___Loan
___Loan Ledger
___Advance
___Advance Ledger
___Income Tax Deduction
___Fixed Tax Amount
___Provident Fund
___Pay Slip New
___Salary Breakup
___Exgratia Distribution
___Employee Increment List
___Upload Loan
___LFA
___Loan Schedule
MIS Reports
___Maturity Of Loan
___Salary Information
___Reconciliation
___Department Wise Salary Detail
___Employee Wise Salary Detail
___Employee Master Roll
___Net Salary Credit
___Bonus Letter
___Payroll Register
___Main Payroll
___Income Tax Computation
___Payroll BPV
___PF Contribution
___PF Certificate
___ExGratia JV
___Arrears JV
___Employee Income Tax Deduction
___Employee With No Income Tax Deduction
Other Reports
___PF Contribution (Branch Wise)
___PF Contribution Summary (Branch Wise)
___PF Contribution (Branch Wise)
___PF Contribution (Employee Wise)
___PF Profit Distribution

PRODUCT SCREEN
CLIENTS
Product Links
STRUCTURAL DIAGRAM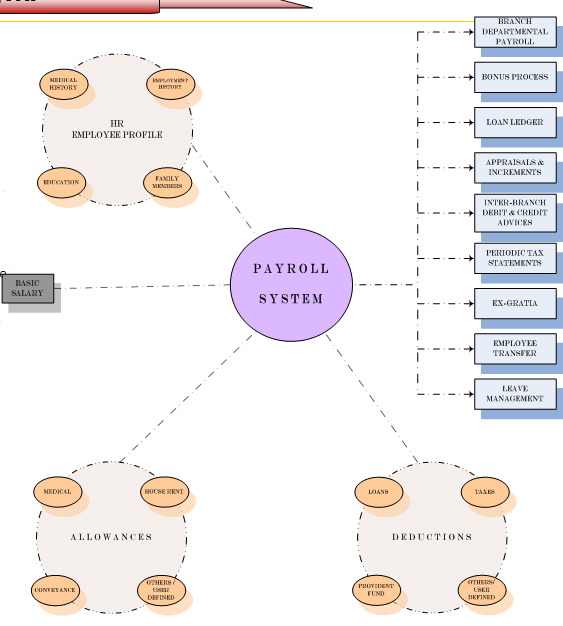 Did you know?
Payroll system is a fully parameterized & centrally integrated solution which provides start-to-end automation for any sophisticated payroll environment for today's demanding world of automation.
The system offers stringent internal controls & comprehensive audit trails, which make this product more suitable for Banks, AMCs, and other Financial Institutions.
The record of employees' profile, like their personal data, employment history, medical history, medical history, education & trainings are stored electronically in a centralized database. The system is flexible enough to cater user defined allowances & deductions, which might be required periodic or permanent bases.
The use of robust technologies in the design & development of the product make it flexible & open to any future enhancements & customizations.